Reel Special Productions Wins the Bride's Choice Award from WeddingWire!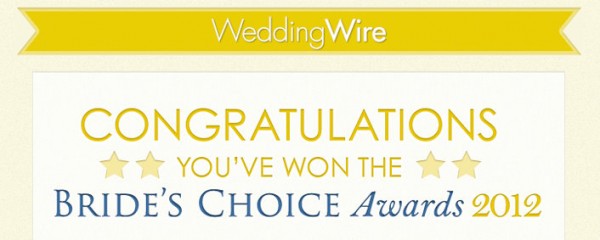 We are so excited to announce that Reel Special Productions has been selected for the Bride's Choice Award by WeddingWire in 2012!
WeddingWire is part of the Martha Stewart network (which includes WeddingWire.com, MarthaStewartWeddings.com, ProjectWedding.com, and several other sites), and this award is just a huge honor for us! What's even better is the fact that this award is not given to us by a panel of random judges, but rather it is a direct result of the feedback received from our clients!
Reel Special Productions is so grateful to each client who took the time to provide a review of our services, and we are just so humbled to have had the opportunity to work with so many great couples this past year.
We're expecting great things in the New Year, and are so excited to work with all those brides who have already booked us for 2012!
And if you're a bride on the fence about whether or not you want a wedding video from Reel Special Productions, contact us today and let us share the reasons why you can't afford not to have us capture your wedding!
Comments
comments